The fall in shipping deals witnessed since 2014 continued into 2017 as reported deals were valued at an 11-year low of US $28.9 billion. Investor sentiment remains weak as the total value of shipping deals in 2016 fell 40% year-on-year. Institutions continue to exit the shipping space as market fundamentals pressure the earnings environment, reducing investor returns. However, we do note that the emergence of leasing companies has increased the allocation of capital by "other debt" participants to 36%.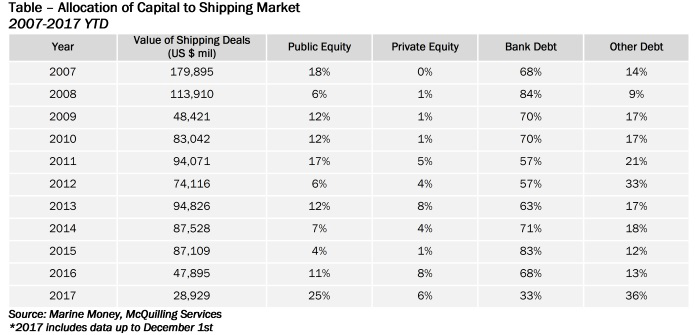 The year 2017 represented the lowest value of Initial Public Offerings (IPO) in the last 11 years with just one reported at a value of US $91 million (Figure). Perhaps, more surprising, was the dramatic decline of traditional bank debt captured in recorded shipping deals last year. According to data compiled by Marine Money Deal Database, bank loans totaled US $7.9 billion in 2017, with leasing companies, primarily from the Asian markets adding US $1.8 billion in financing to the marketplace. We expect leasing companies to continue remaining active and taking market share from other lending sources.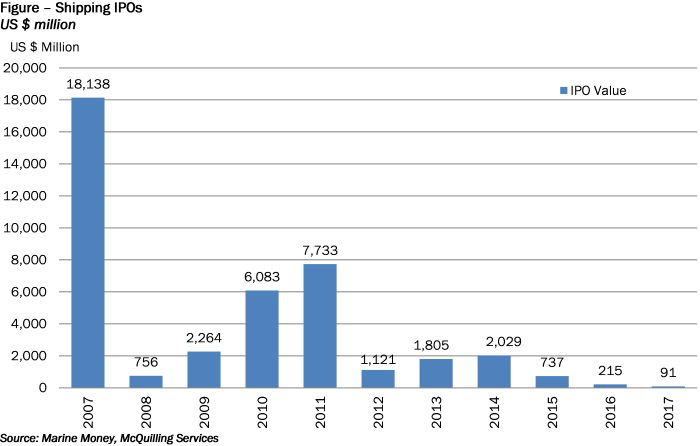 In 2017, the tanker markets saw consolidation, in a pre-cursor or what is to come this year. Euronav merged, but really acquired Gener8 in a US $493 million all-stock deal, a premium of 35% over Gener8's previous closing price. Euronav shareholders would retain 72% of the combined entity. A secondary portion to the deal was the immediate acquisition of 5x 2016-built and 1x 2015-built VLCCs from Euronav by International Seaways, including the assumption of a US $311 million credit facility. Two additional deals this past year were the acquisition of Navig8 Product Tankers by Scorpio Tankers, whereby a total of 27 Long-Range vessels were added to Scorpio's fleet in a deal totaling US $273.2 million and the re-merging of TIL with Teekay.